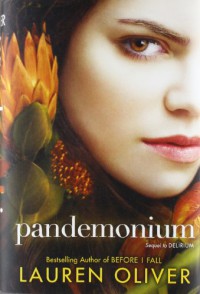 more of a 2.5 rating, but I'm rounding down cause I am just so irritated by this book right now :P
I was pretty disappointed by this book. I was not interested too much in either of the Now or Then stories. They both dragged on and on, without much change in pace. Also, I was very unhappy with Julien as a love interest. Yes, I liked that Lena was given time and space to mourn Alex, but then also allowed to move on.. but what a bore Julien was! I do not buy their romance at all. Ok, so I can see how he would be enamored with her since he hasn't had any experience with girls before, and she is pretty cool. But what the heck, he has no personality so I have no idea how someone would fall for him. And she said she was IN LOVE with him at the end of the book but also felt that it was too soon to talk to him about her mother. That doesn't sound like love to me. They are all professing their love for eachother at the end of the book, but it felt so juvenile and fake to me.
And THEN! The ending with Alex, yeah I was expecting that the entire book. You can never trust that a person is dead if they aren't actually shown as dead. Ever. And I knew that when they talked about the escape that he would be around sometime soon again. I was irritated that Lena never even had a hope that he was really still alive, even after the same exact situation happened with her mother but she found out that she was being held in prison for all those years. It isn't a great stretch that they would do the same to Alex!
And now I'm just dreading the next book cause I really don't want to deal with the love triangle and Alex being all angry and having to read about how Lena is torn. Really??? There is no choice here, Julien is a dud and obviously Alex is better, but I'm sure there will be much angst and I will get so irritated. So yeah :P I may take my time to start the next book